The gearless two-wheeler segment has a lot of demand from those looking for a family scooter, women riders looking for a way to zip through traffic, and students wanting to make their daily commute more fun. Reasonable two-wheeler loan interest rates have made buying these vehicles easier than ever. However, one challenge many people face is the inability to keep their feet comfortably on the ground if the seat height is too tall.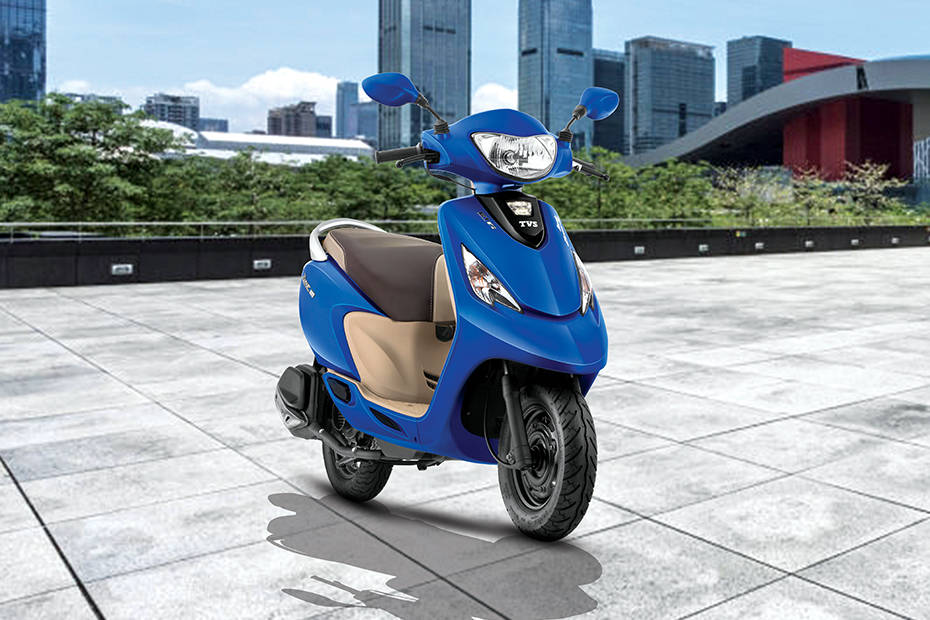 Here we have compiled a list of the 5 best scooters that short riders should find easy to operate.
1. Hero Pleasure Plus
Hero's Pleasure Plus has received a revamped design with a retro-styled front end and a sporty tail lamp. It comes loaded with features such as a mobile charging port, a side stands indicator, an LED boot lamp, and a low fuel indicator. All these, combined with the light and zippy nature of the 110cc engine, make it a joy to ride even in traffic. It has a seat height of 765mm, which makes it accessible to shorter riders. Given the scooter's ease of riding, it can make an excellent family two-wheeler. The ex-showroom price is around ₹62,000.
2. TVS Scooty Pep Plus
A price tag of ₹54,000 odd ex-showroom and claimed fuel efficiency of 65kmpl make the TVS Scooty Pep Plus the go-to option for those not looking to take out a huge two-wheeler loan. The 87cc engine is more than enough to help with your daily commute. The combination of the lightweight design (93kg) and low seat height (760mm) has seen it become one of the most popular scooters for women. It is also a perfect choice for those below 5 feet tall. The Scooty Pep Plus will appeal to those with a lower two-wheeler loan eligibility who want a no-nonsense scooter.
3. Honda Activa 6G
The refined Honda Activa's 6G engine comes with a BS6 compliant 109.51cc motor that runs ESP technology. The company claims this gives it a better silent start and increases mileage by up to 10%. The seat height remains accessible at 765mm. The scooter has optional LED headlamps, an engine kill switch, and an external fuel filler cap. One of India's most popular scooters will appeal to those looking for a powerful engine that comes with a reliable Honda tag. Priced around ₹69,000 ex-showroom, the Activa 6G might require you to stretch your budget, but it is worth considering if you get good two-wheeler loan interest rates.
4. TVS Jupiter
The new BS6 compliant version of the TVS Jupiter delivers lower power and torque figures than the BS4 version but delivers 15% better fuel economy. At 109.7cc, the engine can deliver adequate power over open stretches of highway, while the scooter's zippy nature, excellent ride quality, and 765mm seat height will keep you comfortable even in heavy traffic. The TVS Jupiter now retails for approximately ₹66,000 ex-showroom and is Activa's top competitor. But the lower price could be a big positive for those with a lower two-wheeler loan eligibility.
5. TVS Scooty Zest 110
A daytime running lamp, Silveroak interior panels, and an LED tail lamp give the TVS Scooty Zest 110 a premium look. Though it has the same seat height (760mm) as the Scooty Pep Plus, the Zest has a more powerful engine at 109.7cc. A bold design gives the Scooty Zest 110 a wide appeal, while the ₹63,000 odd price tag still keeps it within an affordable price range when opting for a two-wheeler loan.
The Final Word
Scooters having a seat height between 760-765 mm should be comfortable for most short riders. However, it is important to take a test ride to make sure you are also comfortable with the weight, handling characteristics, and power delivery. The last thing you want is to realize you aren't comfortable with any of the above factors in a scooter after taking a two-wheeler loan. So, conduct thorough research and make an informed decision.