While the US Congress struggles with passing immigration reform, many lawmakers and educators around the country are finding common ground on initiatives that improve undocumented students' access to higher education.
Republicans in Colorado have demonstrated support for a proposed bill that would grant undocumented immigrants in-state tuition at the schools' public universities. University of Notre Dame announced last week that it would consider undocumented applicants the same as domestic applicants. Loyola medical school in Chicago waived legal residency as a requirement in July and is working to improve financial aid for these students.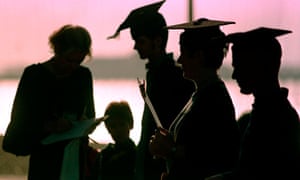 Advocates agree that since Texas became the first state to enact legislation that provides in-state tuition to undocumented migrants in 2001, these students have gained improved access to higher education.
App
Specially crafted for Windows 10, this app gives you full access to the Guardian's award-winning content. With automatic caching, you can keep reading even when you're offline.
Click here
"I think what's probably happening now is there is more openness about the topic and all these students have done a great campaign of advocating for themselves," said Alejandra Rincon, author of Undocumented Immigrants and Higher Education: Si Se Puede. "I think a lot more universities feel comfortable about making announcements and finding these students."
She said accepting undocumented students into universities became more permissible after initiatives like the Deferred Action for Childhood Arrivals (Daca) program, which gives temporary protection to undocumented migrants who meet certain qualifications.
"These students in particular are less and less controversial," said Rincon. "I think they've gained this space within public opinion to fight for their rights."
READ MORE : 
Daca was implemented just over a year ago and those who have been accepted into the program are "lawfully present," and can therefore apply, in theory, to any school in the country. Yet Georgia bars all undocumented students, including those with Daca, from attending its five most competitive schools.
There are no federal laws that bar schools from accepting non-Daca undocumented immigrants, but whether a school will accept an undocumented student varies state by state, institution by institution.
Some schools allow undocumented immigrants to apply as international students, but that often means paying thousands of dollars more, annually, than their documented peers. If an undocumented student is accepted at a college, they cannot qualify for federal financial aid, state aid and other financial aid programs.
That was almost the case for Angelo Mathay, who immigrated from the Philippines when he was six and attended school in California undocumented from that age until 19. He said that when he began college at UCLA in 2003, California was a uniquely friendly environment for undocumented students and after many communications with the school, he was able to pay in-state tuition.
"The process of me trying to figure out how I was going to fund my first year at UCLA dragged on until two to three weeks before I started," Mathay said. His family had to ask a friend of a friend to take out a private loan to pay for the first year, but he became a lawful permanent resident at 19 and was able to seek out other scholarships to complete college.
Now he works as a Daca law fellow at the National Immigration Law Center and has seen that while the legal process of attending college is getting easier, the difficulty of affording college in the US remains.
"A typical Dreamer's experience can still be very disjointed because they have to cobble together money at low wage jobs, that they have to work or have to take breaks from school for, in order to pay for tuition," said Mathay. "So in that respect, it's not different from when I was a Dreamer."
In response to this issue, 18 states have laws or policies that allow undocumented students to pay in-state tuition. Private schools that accept undocumented immigrants are also working to make the schools more affordable.
This includes Notre Dame, one of the few universities in the country that promises to meet full financial need of students. Spokesperson Dennis Brown explained that because undocumented students aren't eligible for pell grants and work study programs, the school will cover that part of the package with $8,200 per year from institutional funds.
"We think it is in line with Catholic teaching to welcome the stranger among us and so we decided to, going forward, admit undocumented students who are able to successfully compete in the applicant pool," said Brown.
Unlike most battles in the immigration debate, improved access to education for undocumented students has seen bipartisan support. "It seems to have an across-the-board appeal to invest in the youth who grew up in this country," said Tanya Broder, senior staff attorney at the Nilc.
"These are children who grew up in our communities in the same way that their peers who went to school with them, they are our future, and it makes sense to invest in their education in the same way we invest other childrens' education," said Broder. "We are all going to benefit from it, and I think that is being better recognized across the country."